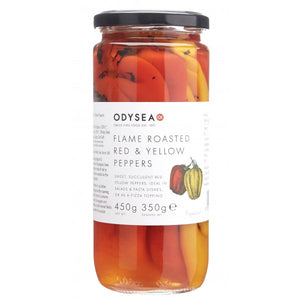 450g
Harvested during August & September when the peppers have turned a brilliant shade of red and yellow, then flame roasted on the day they are picked. 
Ideal for salads, pasta dishes, pizzas and stuffings.
Proud winner of GTA 2020, judges have described our peppers as "Gloriously bright and colourful"......"as easy to eat straight out of the jar as they would be to cook with."
Ingredients
Mixed Red & Yellow Peppers
Water
Vinegar
Salt
Sugar.